Management Team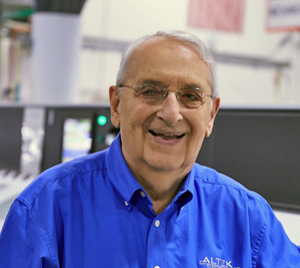 Stephen Altschuler, Chairman & Founder
In addition to being the founder of Altek Company, a manufacturer of can testing equipment for the food and beverage industry under the name of Tech® Products, Steve is also the majority owner of Altek Electronics. Stephen graduated from UConn with a Bachelor of Science degree in Electrical Engineering, and earned a Master of Science degree in Electrical Engineering from Yale University. Earlier in his career, Mr. Altschuler was Vice President of Computer Dynamics (1963-72) and Manager of Quality Assurance for Adage Inc. (1959-63). He served on the Board of Trustees for the University of Connecticut from 1986-93 and is the former Director and Vice President of the Northwestern Connecticut Chamber of Commerce. In 1972 Steve established Altek, and for 50 years worked to create and maintain a business culture that emphasizes customer satisfaction. Stephen has worked successfully with his team to: create a loyal customer base; maintain a profitable business operation that pays its bills on time; and earn a solid reputation in the industry. In addition to his role as Chairman, Steve leads Altek's Engineering team and manages one of Altek's largest customers.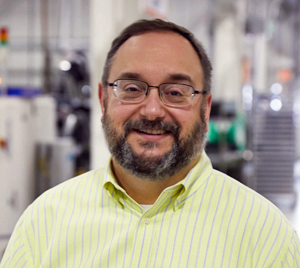 David Altschuler, Chief Executive Officer
David graduated with a B.A. from The George Washington University where he interned at National Public Radio. After working for Public Television for several years, first in the home office in Alexandria, VA, then for Channels 10&36 in Milwaukee, David worked in the computer software sales field for a short time before joining Altek Company in 1992. While working at Altek, David supplemented his business knowledge in the MBA program at the University of Hartford. David has held several key positions including leading administration, IT, materials and customer service. In 2003 David was promoted to Vice President of Finance and Administration. David played a key role in facilitating the company's move to our current location, and has the sales responsibility for one of Altek's largest customers.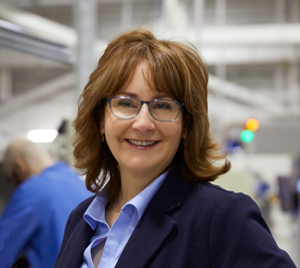 Sabrina Beck, VP of Business Development
Sabrina graduated from Quinnipiac University with a B.S. in Business Management, and began her career in the financial services industry. During the twelve years she worked for corporate America, Sabrina gained experience in sales and marketing, and earned two prestigious professional designations. She joined Altek in 1998, and immediately began the process of learning the family business. Sabrina earned the IPC-610 and 620 certifications, a Six Sigma Green Belt, participated in CFM training, and has taken business classes in UConn's MBA program. Sabrina manages estimating, document control, compliance and business development. Sabrina is President of the Smaller Manufacturers Association and serves as Treasurer of the Surface Mount Technology Association Nutmeg Chapter. She has participated with the New Haven Manufacturers Association, APICS, Women in Manufacturing, IEEE, the Society of Women Engineers and has served as a board member for the Northwest Connecticut Chamber of Commerce, the Northwest Regional Workforce Investment Board, and the Warner Theatre.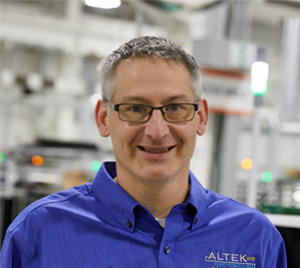 Kevin Bair, Director of Finance & Administration
Kevin Bair is Altek's Director of Finance and Administration. With extensive experience in electronics manufacturing and finance, Kevin comes to Altek from Winchester Electronics where his managerial role focused on finance, accounting and production support for two facilities. Prior to that Kevin worked in managerial roles for Westinghouse Electronics and Teradyne, Inc. Kevin began his career as a Mechanical Design Engineer for Kimball Electronics Group and also worked as a Manufacturing Engineer for Johnson Electric. Kevin earned his Bachelor of Science Degree in Mechanical Engineering from the Rose-Hulman Institute of Technology and an MBA in Finance from Babson College. Additionally he received training in LEAN and Toyota's Systematic Leadership principals. Kevin is currently serving on the Economic Development Commission for the Town of Burlington, CT. In his role at Altek, Kevin is responsible for the management of all finance, human resources and information technology activities.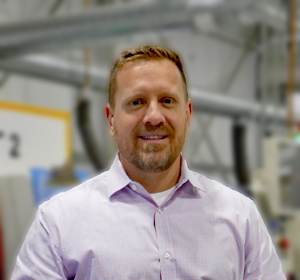 Travis Benningfield, Operations Manager
Travis graduated with a Master's in Business Administration (MBA) from the University of Maryland. He brings a solid manufacturing background as an operations manager from Pratt and Whitney and Turbine Controls, Inc. He was certified in Raytheon Technology's CORE Operating System (Customer Oriented Results and Excellence) in lean manufacturing. Travis is a U.S. Air Force Veteran having served over 20 years. He oversaw highly skilled aircraft technicians performing repairs on multi-million-dollar military aircraft. He was stationed abroad in Asia for over 10 years, and in countries such as Japan and South Korea. In his role at Altek, Travis is responsible for the management of all manufacturing operations, production engineering, process document control, shipping and receiving, and facilities comprising a total of 130+ employees.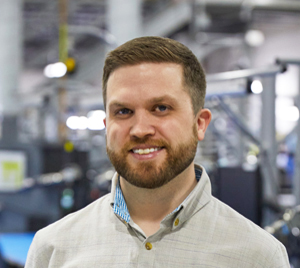 Andrew Zaharek, Electronics Engineering Manager
Andrew originally started with Altek as a student working through the Oliver Wolcott Technical High School Work-Based Learning program. He went on to pursue a degree in Engineering and soon thereafter graduated from Rensselaer Polytechnic Institute, where he double majored, and earned a bachelor's degree in Electrical Engineering as well as Computer & Systems Engineering. Andrew's professional career started in the hydrogen fuel cell industry with internships at UTC Power and continued with an electrical engineering role at Plug Power. Andrew rejoined the Altek team in 2012 as a Test Engineer. Since then he has taken on additional positions and roles such as QMS Auditor, Project Engineer, and ultimately Electronics Engineering Manager, including Test Engineering and Document Control. Andrew works closely with customers to support legacy products, as well as assisting in the development of new products. Andrew's group is responsible for the mitigation of issues related to component obsolescence & availability, providing Design for Manufacturability (DFM) feedback, as well as various engineering support and verification activities, and test fixture maintenance and development.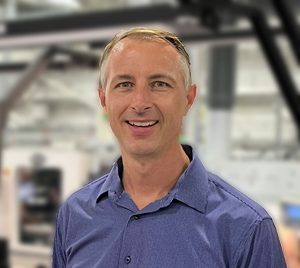 Jeffrey Van Stone, Director of Business Development
Jeff joined Altek in June of 2023. Although new to the PBCA business, he has an impressive background spanning over 20 years at Thomaston Safety Group, where he steadfastly supported Connecticut manufacturers. He earned his BS in Management Information Systems and Services from Post University and brings experience in developing customer relationships, marketing, safety, and customer satisfaction. Jeff heads up business development efforts while also overseeing Altek's Customer Service and Estimating teams ensuring a cohesive experience for our customers. Jeff is a valuable resource for our safety team and brings a wealth of safety experience to the table.  Since 2015, Jeff has been a member of the Smaller Manufacturers Association of Connecticut. He was elected to their board of directors in 2019 and is the Co-Chair of SMArt which supports the development of young professionals promoting Connecticut's rising talent in manufacturing. Jeff is also currently a member of the SMTA, an international network of professionals who build skills, share practical experience, and develop solutions in Electronics Manufacturing.  In his free time, you will likely catch Jeff on the sidelines cheering on his two daughters, Hannah and Lily, regardless of what sport is in season.