Product Identification & Traceability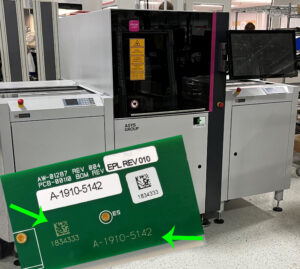 Product Identification & Traceability
Altek Electronics' component and assembly traceability system enables product identification and tracking in all stages of receiving, stocking, and manufacturing.
Altek is equipped with the Insignum 4000 Automatic Laser Marking System, a CO2 based laser that permanently marks product information (serial number, assembly number and revisions, tracking identification, etc.) directly on your PCB, eliminating the labor-intensive efforts of manual printing and placing of labels. This alternative method provides permanent product marking, reduces touch labor, and is an integral part of our product identification system.
If required, Altek can track assemblies and materials as they move through the manufacturing floor using a Datalogic Direct Barcode Scanning System. Boards and components can be given unique IDs that become the products identifier in our database. Linking the item ID to the customer work order/purchase order allows us to track and trace the individual components to the lot, or individual serial number, of the assembly as necessary to fulfill your traceability requirements.