Selective Solder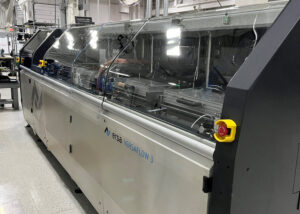 Selective Solder
We offer a variety of solutions for your product's Selective Solder requirements. Our extensive range of equipment allows us to assign the most suitable machine for the task.
The ESRA VERSAFLOW 3/66 effortlessly achieves precision lead-free soldering, especially around dense SMT and heat-sensitive components. Its innovative technology allows for simultaneous processing of up to five boards – one board in each module. This system is designed with a streamlined process flow, from the precision spray fluxer in the Flux module to top and bottom preheat modules and dedicated solder pots, ensuring precision at every crucial step.
The ERSA Smartflow 2020 is compact and engineered for easy setup, excelling in handling mid to small range runs without compromising quality. It's designed to emphasize efficiency without sacrificing the precision required for impeccable soldering.
The Apollo Seiko L-CAT 4540 Robotic Solder System offers versatility, accommodating both desktop and in-line applications. Its flexibility adds significant value to our equipment configuration, adapting seamlessly to varying production needs.
The SEHO SelectLine C sets a new standard for inline processing. It initiates PCBs fluxing using a highly precise drop jet fluxer, followed by closed-loop preheaters tailored for diverse circuit board designs. Fiducial correction ensures unwavering consistency, while the high-precision closed-loop servo-controlled dual soldering pots expedite processing times, guaranteeing impeccable solder joints. The top-side preheater maintains optimal temperatures during soldering, ensuring quality outcomes with every operation.
In summary, our solutions are designed to provide precision, efficiency, and versatility to meet your selective soldering needs.