Wire & Cable Harness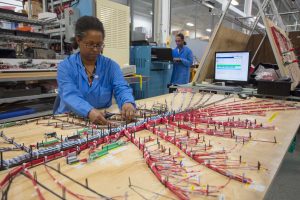 Altek Electronics is a one-stop contract manufacturer providing turnkey solutions for OEM's in the medical, industrial commercial and aerospace industries. We manufacture custom harness assemblies in conjunction with PCB and mechanical assembly.
Over 40 years of experience in building both small and large harnesses gives us the expertise to meet the needs of customers who manufacture large, complex equipment that require precision system integration.
PCB Assembly
Complex Assembly for Box Build
Wire and Cable Harness
System Integration
Alteks' Wire and Cable Harness department works in conjunction with our Box Build and PCBA departments.  Onsite Engineering provides expertise for integral coordination and technical support.
Our goal is to provide you with a one stop source to manage your custom product.  Altek can manage the product from start to finish providing you with a complete and tested unit.  The benefit will be realized in your on-time delivery and quality metrics.
Utilizing several forms of automation, such as automatic wire cutting and wire stripping, we can custom manufacture your harness to your exact specifications while keeping prices competitive.
Staffed with IPC-620 certified personnel we are committed to an extremely high standard of quality and can construct simple cable assemblies or the most complex multi-connector, multi wire harnesses.