Conformal Coating & Potting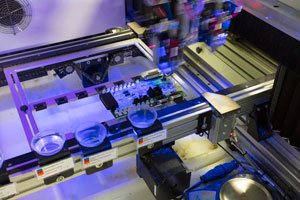 Conformal Coating
There are many advantages to circuit board conformal coating, including protecting circuitry from moisture, fungus, dust and corrosion caused by extreme environments; preventing damage during handling, installation and use; reducing mechanical stress on components; and protecting the PWA from thermal shock. This is done by coating the board with a layer of transparent coating material. Altek Electronics uses Acrylic, Urethane and Silicone products with UV indicators for quality control. We apply coatings using spray, dip and brush methods. Here is a list of common products used in the conformal coating process:
HumiSeal 1A33
Miller-Stephenson MS-475C
Hysol PC29M
Dow Corning 1-2577
Altek's PVA6000 coating and dispensing system was custom made for our company with a 600x600mm work area. It is configured with two valves for acrylic conformal coatings and two for silicone conformal coatings. It includes a XYZ repeatability of ±25 microns and an encoder resolution of 5 microns at a maximum acceleration of 1g. A prominent highlight of this machine is the four-axis motion, featuring valve- tilt and rotating capabilities. The PVA IR2000 has a curing length of 1.2m and can reach a maximum panel temperature of 260°C. It presents a conveyor speed of 0.15m/min to 5.8m/min, a board/pallet width of 51mm to 457mm and a component clearance of 100mm top and bottom.
Potting
Potting is the process of enclosing a complete electronic assembly with a solid compound for protection against shock, vibration, moisture and corrosion. This process involves putting the device into a case or shell and then pouring the liquid potting compound to the top of the case covering the device and completely encasing it. While this process is generally more labor-intensive and costly than conformal coating, it does provide a higher degree of water and chemical resistance and electrical insulation. There are several different types of potting compounds useful in various situations, including:
Epoxy
Urethane
Silicone
Acrylic
Polyester