SMT Assembly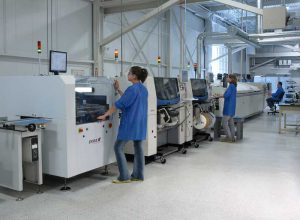 Altek Electronics' state-of-the-art facility offers our customers flexibility with both Prototype PCB and Production requirements. We manufacture all circuit board assemblies in accordance with three classes of the Acceptability of Electronic Assemblies (IPC-A-610). Our SMT placement lines can produce either RoHS compliant lead-free assemblies or we can use traditional tin-lead solder in the printed board assembly process. Our circuit boards are assembled with exceptional quality, utilizing the latest technology in surface mount equipment. SMT component placement sizes range from 01005 to 2.2 inches enhanced by a placement accuracy of 15um at 3 Sigma.

Whether we are prototyping circuit boards or producing medium to high volumes, we are committed to quality and continuous improvement. Our capabilities include automated and detailed visual assembly inspection, cleaning and functional testing.
Quality and on-time delivery are our paramount objectives
Circuitcam software creates machine programs from CAD data, reducing the risk of human error
7 placement machines provide flexibility to run multiple jobs simultaneously, or use multiple machines to increase output on one large job
Two 3-D AOI machines allow us to verify the smallest components and provide for unprecedented quality control
Our Yxlon X-Ray machine inspects BGA placements to ensure proper alignment and reflow
We can support batch sizes ranging from less than 10 piece prototypes, to full production runs in the thousands
Six Sigma Black Belts and Certified LEAN Leaders work to maintain quality, keep costs under control, and meet delivery schedules
Altek's surface mount assembly equipment includes:
2 EKRA X4 solder paste systems
1 EKRA Serio 4000 volume printer
2 Samsung SM481 placement systems
1 Samsung SM482 placement system
1 Samsung SM421 placement system
1 Samsung SM411 placement system
2 Samsung SM320 placement systems
1 Pyramax 125A reflow oven
1 Pyramax 98A reflow oven
1 Mirtec MV-6 OMNI 3D AOI machine
1 Mirtec MV-7xi inline AOI station
1 Mirtec MV-7U inline AOI machine
2 Mirtec MV-2HTL AOI stations
Yxlon Y. Cougar BGA X-Ray Inspection System
The combination of our state-of-the-art capital equipment and our skilled workforce is key to our success in increasing customer satisfaction and exceeding quality expectations.