Box Build & System Integration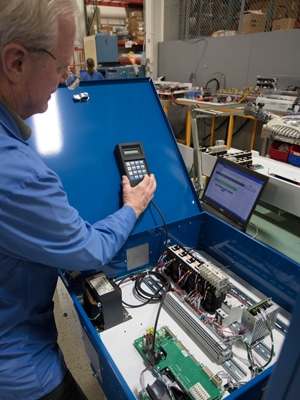 In addition to printed circuit board assemblies, Altek also has vast experience with higher level assemblies including chassis, boxes, control panels and complete system integration. We can build your boards, install them in your chassis assembly, box build or panel completely wired, programmed and fully tested.
Here are some of the benefits of outsourcing your complete unit to Altek:
Achieve minority supplier quota – Altek is a Veteran Owned Small Business.
Reduce supply base – Altek can build your PCB assemblies, cables, harnesses, boxes, chassis', control panels and complete systems.
Increase inventory turns – Altek will hold the sub-assemblies until they are ready to integrate into the higher level assembly.
Reduce cost – Eliminate compound mark-ups from large suppliers out-sourcing to smaller suppliers.
Improve on-time delivery – Altek will coordinate acquisition and build of sub-assemblies and coordinate integration into the higher level product to meet your delivery requirements.
Reduce defects and returns – Altek will deliver a fully-assembled, fully-tested product that is ready to use right out of the shipping carton.
Streamline Project Management – Manage one supplier instead of multiple suppliers.
Increase Productivity – As a serious-minded, customer-focused supplier, Altek will streamline your workload by delivering products that work on-time without the need to micro-manage every step of the process.
Some examples of higher level assemblies built at Altek include power control panels used in fuel cell buses and submarines, enclosures and chassis used to cut, grind and polish lenses, electronic control enclosures used on rotary wide-bed printers for the garment industry, cabinet-sized test rigs for complex capital equipment, chassis and panels for military applications, hand controls used on armored vehicles, among others.
Please contact us today for a free, no-obligation quote on your chassis, box, control panel or system.